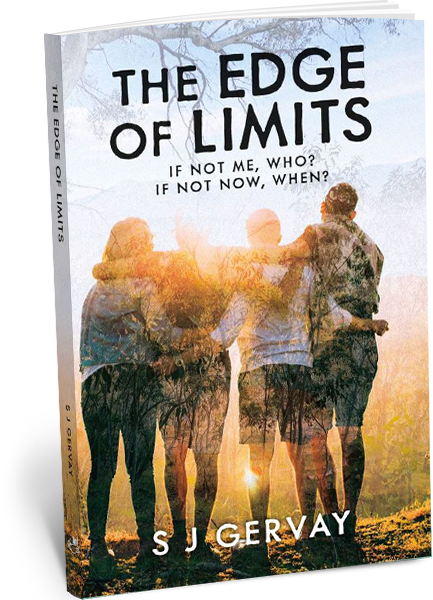 Media Release
Award-winning author Susanne Gervay writes about consent and courage. Boys cannot be left behind.
Award-winning Young Adult author, educational consultant, S.J. Gervay OAM's novel The Edge of Limits is to be published by Flying Elephant Media November 1st.
"This is a novel which needed to be written and needs to be read." – Reading Time
"An authentic trip into an adolescent male mind … refreshingly honest and beautifully written." – Sydney Morning Herald
Tackling one of the most talked about topics today – consent – award-winning Young Adult author and OAM recipient for her services in children's literature, Susanne Gervay pens her latest novel The Edge of Limits, out through Flying Elephant Media on November 1.
Gervay unlocks critical choices on consent and courage. Exploding the conventions on how to teach consent, The Edge of Limits honestly and sensitively portrays the complexities of boys as they confront sexuality, power, and consent, allowing boys to be challenged and girls to gain invaluable insight.
The Edge of Limits is a journey of a school camp hiking deep into the mountains. It is the passage from the culture of beach parties, school, sex, and consent to the wilds of trekking, abseiling, rock climbing, sweaty days, and freezing wilderness. Protagonist 17-year-old Sam battles not only his grief over losing his grandfather, but whether he should speak out about a sexual assault he witnessed at a Rave party. As he battles the terrain as well as the physical and emotional challenges of school survival camp with classmates over eight gruelling days, he is forced to choose whether he must confront the rape and decide if he remains silent or to speak.
Pursuing authenticity, Gervay persuaded her son to help her write The Edge of Limits which allowed her to go straight into the heart of the topic of consent.
"Boys feel so much, yet they rarely talk about the turbulence of their emotions. Especially country boys, many of whom face mental health issues and suicide. It's not good enough. It can never be good enough. That's one major reason why I wrote The Edge of Limits," says Gervay.
Meanwhile, we continue to be shocked by the school culture of 'boys' clubs'. While government campaigns now advocate 'respect', endless academic papers on gender equity proliferate, schools carry out consent programs and we have almost 7,000 testimonies of abuse by mostly teenage girls in the 'Teach us Consent' forum, we need to do more, and The Edge of Limits is the voice that will spark an important conversation to make change".
"Boys need to read The Edge of Limits to understand their critical choices and girls need to read it so they understand the drivers for male action. I hope it allows them to engage in the story and think critically." Says Gervay.
The Edge of Limits is out on November 1 through Flying Elephant media available at all good booksellers.
Further praise for The Edge of Limits
"Confronting in many ways, this novel will certainly find an audience to which it can speak."
Viewpoint
"An epic story, beautifully written with clear spare prose and the ability to go right to the heart of young males in modern society."
Carol Kayrooz, University of Canberra
For review copies and interviews, please contact:
Anna Abignano
Director, All About PR
Tel: 0411 481 477
Email: anna@allaboutpr.com.au